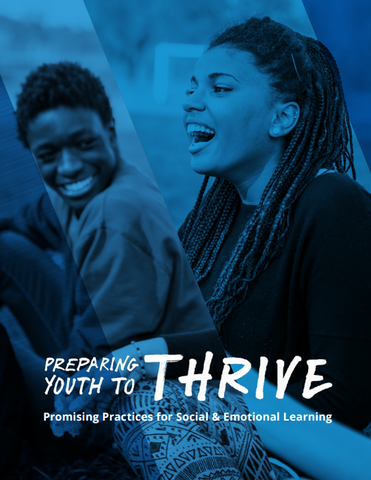 Preparing Youth to Thrive: Promising Practices for Social & Emotional Learning
The Social and Emotional Learning (SEL) Challenge was a partnership between expert practitioners (youth workers, social workers, teachers) delivering exemplary programs in eight unique communities, a team of researchers, and a national funder. The Challenge was designed to: (1) identify promising practices for building SEL skills with vulnerable adolescents and (2) develop a method for taking these practices to scale in thousands of out-of-school time (OST) settings.  The promising practices are called standards for SEL practice and the method is called the SEL Strengths Builder. The SEL practices that were the focus of the Challenge were organized around adolescent skill growth in six areas: Emotion management, empathy, teamwork, responsibility, initiative, and problem solving.
The findings are published in this Field Guide, which presents 32 standards and 76 practice indicators in the six areas of SEL practice and four additional curriculum features. Each practice indicator is accompanied by multiple real-word examples. Case studies are also presented for each of the eight exemplary programs. Order yours today!
---
We Also Recommend