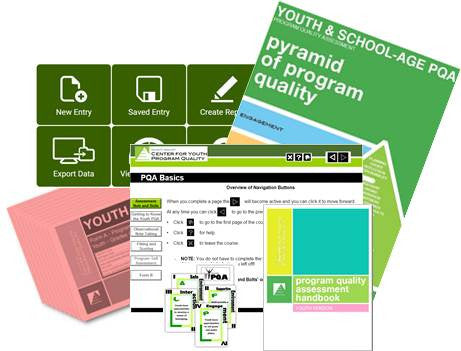 Program Quality Assessment Starter Box Set (Youth)
The Youth Program Quality Intervention (YPQI) is a comprehensive system for improving program quality, built around the research-validated Program Quality Assessment (PQA). This Box Set provides everything you need to assess the quality of your program(s), identify staff training needs, and ultimately use data for continuous quality improvement. This box set is appropriate for a single program site 
(grades 4 – 12)
. Includes the following:
ONLINE COURSES
 - This training prepares staff to use the PQA tool. Comes with printed Youth PQA handbook, poster, and playing cards!
*An account may only be assigned to a single individual. An active email address must be provided in order to establish an account. Account access is active for the period of 90 days from the time of enrollment.
ASSESSMENT MATERIALS 
 - This validated instrument is designed to evaluate the quality of youth programs and identify staff training needs.                           
 Online Scores Reporter - 1 year of access (1 Login)
 - In this online system, you can enter program self assessment scores, print custom reports, and track program improvement plans.
---
We Also Recommend